Aside from packing for the biggest field trip of my life........ I have been pretty busy.
Recently I was chosen to review products for The Old Schoolhouse Homeschool Crew. The first product that I will be reviewing, is an E-book on
Travel Kits
. Be sure to check back in a few weeks to see the review. I plan on using some of the ideas on our big trip..... this little book will be put to the test!
As a part of the Homeschool Crew, we are broken down into mini crews. I am on the Bluenose Crew.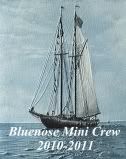 It is headed up by our first mate Isabella. I am looking forward to getting to know, and learn from her this year.
My crew mates are:
Nicole. Her blog :
Ever After.... My Way
. She is a mom of 3. Anyone with the screen name of Twisted Cinderella......well I can tell we share a sense of humor! I am sure she will keep me laughing.
Cindy. Her blog:
Along The Way
. She is a mom of 2. She has some downloads on her site, and lots of great ideas for making the most of every opportunity to teach little ones. Her Ocean Week stuff is great!
Michelle. I will post a blog for her as soon as I get one.... I look forward to working with her this year.